Posts for: May, 2019
By Jeffery M. Hurst, DDS
May 18, 2019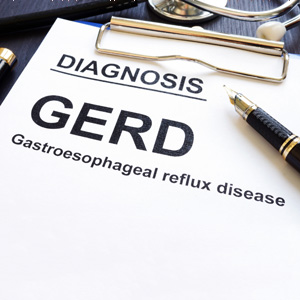 Most dental problems arise from tooth decay and periodontal (gum) disease. But they aren't the only source of danger to your teeth—gastroesophageal reflux disease (GERD) could be just as damaging to your tooth enamel as dental disease.
GERD usually occurs when a ring of muscles at the top of the stomach weaken, allowing stomach acid to enter the esophagus. This resulting acid reflux can make life unpleasant and pose potential health dangers—over time it can damage the lining of the esophagus and cause ulcers and pre-cancerous cells. It can also erode tooth enamel if acid enters the mouth and raises its level of acidity.
This can be a problem because acid can soften and dissolve the mineral content of tooth enamel. This is the primary cause of tooth decay as acid produced by oral bacteria attack enamel. The more bacteria present, often thriving in dental plaque, the higher the potential levels of acid that can damage enamel. Stomach acid, which is strong enough to break down food, can cause similar harm to enamel if it causes higher than normal acidity in the mouth.
There are some things you can do to protect your teeth if you have GERD, namely manage your GERD symptoms with lifestyle changes and medication. You may need to avoid alcohol, caffeine or heavily acidic or spicy foods, all known to aggravate GERD symptoms. Quitting smoking and avoiding late night meals might also ease indigestion. And your doctor may recommend over-the-counter or prescription drugs to help control your acid reflux.
You can also boost your teeth's enamel health by practicing daily brushing and flossing—but not right after a reflux episode. The enamel could be softened, so brushing can potentially remove tiny particles of mineral content. Instead, rinse with water mixed with or without a little baking soda to help neutralize acid and wait about an hour—this will give saliva, the mouth's natural acid neutralizer, time to restore the mouth's normal pH level.
And be sure you're using a fluoride toothpaste. Fluoride strengthens enamel—in fact, your dentist may recommend topical fluoride applications to boost the effect.
These and other tips can help minimize the effects of GERD on your dental health. With an ounce of prevention, you can keep it from permanently damaging your teeth.
If you would like more information on managing your dental health with GERD, please contact us or schedule an appointment for a consultation. You can also learn more about this topic by reading the Dear Doctor magazine article "GERD and Oral Health."
By Jeffery M. Hurst, DDS
May 08, 2019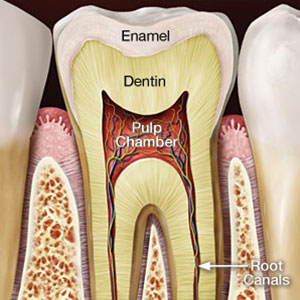 The change from primary teeth to permanent is an announcement to the world that a boy or girl is "growing up." "Growing up," though, is still not "grown"—the new teeth are still in a period of development that can affect how we treat them if they're injured or diseased.
While a new tooth erupts with all its anatomical layers, the middle dentin is somewhat thinner than it will be after it matures. The pulp, the tooth's innermost layer, produces new dentin and gradually increases the dentin layer during this early development period. While the pulp continues to produce dentin over a tooth's lifetime, most of it occurs in these early years.
To prevent or stop any infection, we would normally perform a root canal treatment in which we remove the pulp tissue and fill the empty pulp chamber and root canals. This poses no real issue in an older tooth with mature dentin. Removing the pulp from an immature tooth, though, could interrupt dentin development and interfere with the tooth's root growth. Besides a higher risk of discoloration, the tooth could become more brittle and prone to fracture.
That's why we place a high priority on preserving a younger tooth's pulp. Rather than a root canal treatment, we may treat it instead with one of a number of modified techniques that interact less with the pulp. Which of these we use will depend on the extent of the pulp's involvement with the injury or disease.
If it's unexposed, we may use a procedure called indirect pulp therapy, where we remove most of the tooth's damaged dentin but leave some of the harder portion intact next to the pulp to avoid exposure. If, though, some but not all of the pulp is damaged, we may perform a pulpotomy: here we remove the damaged pulp tissue while leaving the healthier portion intact. We may then apply a stimulant substance to encourage more dentin production to seal the exposure.
These and other techniques can help repair an injured young tooth while preserving most or all of its vital pulp. Although we can't always use them, when we can they could give the tooth its best chance for a full life.
If you would like more information on caring for your child's teeth, please contact us or schedule an appointment for a consultation. You can also learn more about this topic by reading the Dear Doctor magazine article "Saving New Permanent Teeth after Injury."