Posts for: June, 2019
By Jeffery M. Hurst, DDS
June 17, 2019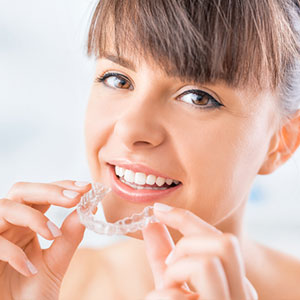 Teeth whitening or bleaching is one of the most affordable and least invasive ways of improving your smile. Although the effect fades with time, whitening can make dull and dingy teeth more attractive in short order.
Teeth whitening is also unique among cosmetic dental procedures in that you can do it yourself at home. While professional bleaching solutions are stronger and capable of greater brightness and longevity, you can still achieve good results with a DIY kit.
If you decide to whiten at home, though, there are a few things to keep mind for a desirable and safe outcome. Here are 3 tips for successful DIY teeth whitening.
Follow the directions. It's not a good idea, both for a successful and safe outcome, to stray away from a kit manufacturer's recommended directions. FDA-approved home kits usually contain 10% or less of carbamide peroxide (one of the more common bleaching agents). That may not seem very strong but it's adequate within the recommended time it remains on your teeth to achieve an effective whitening effect. Exceeding those directions could permanently damage your tooth enamel.
Make sure a home kit will work on your staining. Home whitening kits only affect outer staining on tooth enamel. But dental discoloration can also arise from inside a tooth, often because of trauma, tetracycline use, or as a side effect of a root canal treatment. This kind of internal staining requires a special procedure usually performed by an endodontist to reduce it. So, see your dentist first to make sure your teeth are healthy enough for whitening and that a home kit will work for you.
Get your dentist's advice on home kits. There are a number of whitening applications on the market you can choose, so ask your dentist for recommendations. They can also give you some helpful tips on the whitening process to ensure you'll be safe and successful in your efforts.
Here's a couple of other things to remember to enhance your teeth whitening experience: whether you whiten your teeth at home or with the dentist, be sure you continue to care for your teeth with daily brushing and flossing. And, if you limit your consumption of foods and beverages known to stain teeth, you'll help extend the duration of your brighter smile.
If you would like more information on teeth whitening procedures, please contact us or schedule an appointment for a consultation. You can also learn more about this topic by reading the Dear Doctor magazine article "Tooth Whitening Safety Tips."
By Jeffery M. Hurst, DDS
June 07, 2019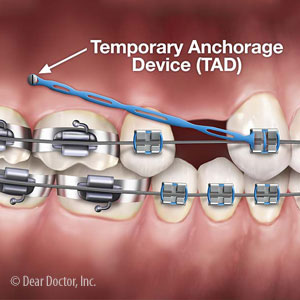 While braces are often the stars for straightening smiles, they're not the only cast members in an orthodontic production. Orthodontists occasionally turn to other appliances if the bite problem is challenging. Whatever the tool, though, they usually have something in common—they use the principle of anchorage.
To understand anchorage, let's first consider the classic kid's game Tug of War. With teams on either end of a rope, the object is to pull the opposing team across the center line before they pull you. To maximize your pulling force, the player at the back of your rope, usually your stoutest member, holds steady or "anchors" the rest of the team.
Like a Tug of War team, braces exert force against the teeth. This stimulates the supporting periodontal ligament to remodel itself and allow the teeth to move. The braces use the teeth they are attached to as anchors, which in a lot of cases are the back teeth. By attaching a thin wire to the brackets or braces on the teeth, the orthodontist includes all the teeth on the arch, from one end to the other. Anchored in place, the wire can maintain a constant pressure against the teeth to move them.
But not all bite situations are this straightforward. Sometimes an orthodontist needs to influence jaw growth in addition to teeth movement. For this purpose, they often use orthodontic headgear, which runs around the back of the head or neck and attaches to orthodontic brackets on the teeth. It still involves an anchor but in this case it's the patient's own skull.
In some situations, an orthodontist may feel he or she needs more anchorage as the teeth alone may not be enough. For this, they might establish a separate or additional anchor point using a temporary anchorage device (TAD). A TAD resembles a tiny screw that's inserted into the jawbone near the tooth intended for movement. The orthodontist can then attach the TAD to braces hardware using some form of elastics. After treatment, they remove the TAD.
These are just a couple examples of specialized tools an orthodontist can use for bite correction. Thanks to them and similar devices, even the most complex bite problem can be overcome to create a healthier and more attractive smile.
If you would like more information on correcting a poor bite, please contact us or schedule an appointment for a consultation. You can also learn more about this topic by reading the Dear Doctor magazine article "Orthodontic Headgear & Other Anchorage Appliances."