Posts for tag: gum disease
By Jeffery M. Hurst, DDS
October 10, 2018
Cardiovascular disease and periodontal (gum) disease are two different conditions with their own set of symptoms and outcomes. But they do share one common element: inflammation. In fact, this otherwise normal defensive response of the body might actually create a link between them.
When tissues become damaged from disease or injury, the body triggers inflammation to isolate them from the rest of the body. This allows these tissues to heal without affecting other tissues. If inflammation becomes chronic, however, it can damage rather than protect the body.
This happens with both cardiovascular disease and gum disease. In the former, low-density lipoproteins (LDL or "bad cholesterol") in animal fat leave behind remnants that can build up within arteries. This stimulates inflammation of the vessel's inner linings, which accelerates hardening and increases the risk of heart attack or stroke.
With gum disease, bacteria living in a thin, built-up film of food particles on the teeth called plaque infect the gum tissues, which in turn trigger inflammation. A struggle ensures between the infection and inflammation, causing the gum tissues to weaken and detach from the teeth. Coupled with erosion of the supporting bone, the risk of tooth loss dramatically increases.
Recent research now seems to indicate the inflammatory responses from these two diseases may not occur in isolation. There is evidence that gum inflammation could aggravate inflammation in the cardiovascular system, and vice-versa. The research, though, points to some possible good news: treating inflammation in either disease could have a positive effect on the other.
Making heart-friendly lifestyle changes like losing extra weight (especially around the waist), improving nutrition, and exercising regularly can help reduce LDL and lower the risk of arterial inflammation. Likewise for your gums, daily oral hygiene and visiting the dentist at least twice a year reduces the risk for gum disease. And at the first sign of a gum infection—swollen, reddened or bleeding gums—seeking immediate treatment will stop it and reduce any occurring inflammation.
Taking steps to prevent or reduce inflammation brought on by both of these diseases could improve your health and save your life.
If you would like more information on how your oral health affects your whole body, please contact us or schedule an appointment for a consultation. You can also learn more about this topic by reading the Dear Doctor magazine article "The Link between Heart & Gum Disease."
By Jeffery M. Hurst, DDS
July 22, 2018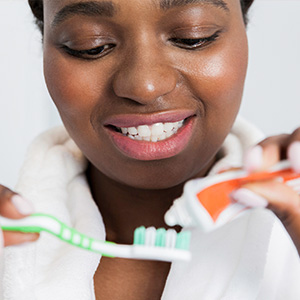 It's been a long road back to oral health for you after periodontal (gum) disease. But after several plaque removal sessions and perhaps even surgical procedures to address deep infection, your gums have regained their healthy pink appearance.
But now you must face a hard reality: because you've had gum disease you'll need to be extra vigilant with your oral hygiene to avoid another round with this destructive disease. But don't worry—you won't have to fight your prevention battle alone. We'll continue to provide you care that reduces your risk of re-infection. We call that care periodontal maintenance (PM).
The heart of PM care involves regular dental visits for monitoring, cleanings and treatment when necessary. While most patients may visit their dentist at least twice a year, as a previous gum disease patient we may advise more frequent visits, especially if you've just finished periodontal treatment. Depending on the extent of your disease, we may begin with a visit every other week or once every two to three months. If your mouth continues to be disease-free we may suggest increasing the time between visits.
During your visit we'll carefully examine your mouth, as well as screen you for any signs of potential oral cancer. We're looking for both signs of re-infection or new issues with your teeth and gums. We'll also assess the effectiveness of your oral hygiene efforts and advise you on ways you can improve.
If we find any signs of disease, we'll then formulate a treatment plan to effectively deal with it. With frequent visits we have a better chance of discovering re-infection early—and the earlier the better to minimize any further damage. We may also need to take steps to make future PM care easier. This could include gum surgery to alter the tissues around certain teeth for easier access for examination and cleaning.
Our main focus with PM care is to look ahead: what can we do now to prevent a future bout of gum disease or at least lessen its effect? With continued monitoring and care we can drastically reduce your risk for further damage from this destructive disease.
If you would like more information on post-gum disease maintenance, please contact us or schedule an appointment for a consultation. You can also learn more about this topic by reading the Dear Doctor magazine article "Periodontal Cleanings."