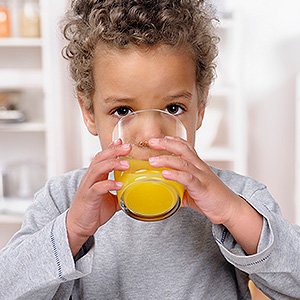 The amount of sugar your child consumes has a huge bearing on their tooth decay risk: The more they take in, the higher it is for this destructive disease. That's why you should moderate their intake of the usual suspects: sodas, candies and other sugar-laden foods. But you should also put the brakes on something considered wholesome and nutritious: fruit juices. And that includes all natural juice with no sugar added.
Sugar in any form is a prime food source for decay-causing bacteria. As bacteria consume leftover sugar in the mouth, they produce acid as a byproduct. With an ample source of sugar, they also multiply—and this in turn increases their acid production. Acid at these high levels can soften and erode tooth enamel, which leads to tooth decay and cavities.
Limiting or even excluding sugar-added foods and snacks can help minimize your children's risk for tooth decay. For designated snack times, substitute items like carrot sticks or even popcorn with a dash of spice rather than sweet snacks and candies. If you do allow occasional sweet foods, limit those to mealtimes when saliva, which neutralizes acid, is most active in the mouth.
As you manage sugary items your children may eat or drink, the American Academy of Pediatrics also advises you to moderate their consumption of fruit juices, including all-natural brands with no added sugar. Their recommended limits on daily juice drinking depend on a child's age and overall health:
Infants (less than one year) or any children with abnormal weight gain: no juice at all;
Toddlers (ages 1-3): 4 ounces or less per day;
Younger children (4-6): 6 ounces or less per day; and
Older children (7-18): 8 ounces (1 cup) or less per day.
As for the rest of your children's daily hydration needs, the most dental-friendly liquid for any of us is plain water. For older school-age children, low- or non-fat milk is also a sound choice.
Preventing tooth decay in your children is a continuous task that requires all of us, parents and dental providers, to do our part. Besides daily hygiene (brushing and flossing) and regular dental visits, keeping sugar at bay—including with juices—is an important part of that effort.
If you would like more information on best dental health practices for children, please contact us or schedule an appointment for a consultation.