Posts for: January, 2016
By Jeffery M. Hurst, DDS
January 20, 2016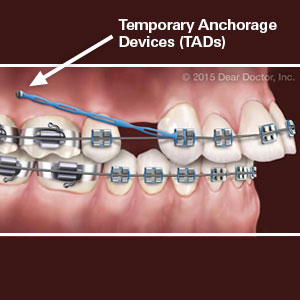 Braces are a common part of many teenagers' life experience — but not every bite problem is alike. Sometimes, there's a need for accurately moving only a few teeth while making sure others don't. This is where Temporary Anchorage Devices (TADs) can help streamline that effort and even reduce treatment time.
Orthodontics wouldn't work at all if we didn't already have a natural tooth movement mechanism in our mouths. That ability rests with the periodontal ligament, a tough, elastic tissue between the teeth and the bone that firmly attaches to both with tiny collagen fibers. Though quite secure in holding teeth in place, the ligament attachment also allows teeth to move in response to changes in the bone and jaw structure.
Braces are made of brackets cemented to tooth surfaces through which tiny wires pass. The wires are anchored, usually to other teeth or groups of teeth, and tightened to apply pressure against the other teeth. The ligament does the rest: as the teeth are "pressured" to move in a certain direction, new bone, ligament and an anchoring substance known as cementum forms behind it to secure the tooth in its new position.
The anchorage teeth are not intended to move. In some situations, though, it's difficult to keep them from not moving — much like trying to keep a boat anchor from not dragging through sand on the sea bottom. TADs help alleviate this problem: it's a mini-screw or mini-implant that's temporarily placed in the jawbone to which the tension wire can be secured. They're placed in the best positions for isolating the teeth that need to be moved without compromising the position of nearby teeth that don't.
With the site numbed with a local anesthetic, we install the TAD through the gum tissue into the bone with a special device; their screw-shaped design holds them securely in place. They're then removed when the orthodontic treatment is complete.
While a simple procedure, precise placement requires collaboration between the orthodontist and the oral surgeon or dentist who installs them. They also need special attention during daily hygiene to keep them clean. Still, with difficult bite situations they can help bring about the right outcome — a straight and beautiful smile.
If you would like more information on orthodontic treatment options, please contact us or schedule an appointment for a consultation. You can also learn more about this topic by reading the Dear Doctor magazine article "What are TADs?"
By Jeffery M. Hurst, DDS
January 05, 2016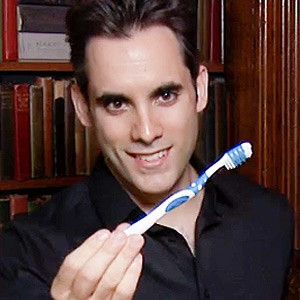 Magician Michel Grandinetti can levitate a 500-pound motorcycle, melt into a 7-foot-tall wall of solid steel, and make borrowed rings vanish and reappear baked inside bread. Yet the master illusionist admits to being in awe of the magic that dentists perform when it comes to transforming smiles. In fact, he told an interviewer that it's "way more important magic than walking through a steel wall because you're affecting people's health… people's confidence, and you're really allowing people to… feel good about themselves."
Michael speaks from experience. As a teenager, his own smile was enhanced through orthodontic treatment. Considering the career path he chose for himself — performing for multitudes both live and on TV — he calls wearing an orthodontic device (braces) to align his crooked teeth "life-changing." He relies on his welcoming, slightly mischievous smile to welcome audiences and make the initial human connection.
A beautiful smile is definitely an asset regardless of whether you're performing for thousands, passing another individual on a sidewalk or even, research suggests, interviewing for a job. Like Michael, however, some of us need a little help creating ours. If something about your teeth or gums is making you self-conscious and preventing you from smiling as broadly as you could be, we have plenty of solutions up our sleeve. Some of the most popular include:
Tooth Whitening. Professional whitening in the dental office achieves faster results than doing it yourself at home, but either approach can noticeably brighten your smile.
Bonding. A tooth-colored composite resin can be bonded to a tooth to replace missing tooth structure, such a chip.
Veneers. This is a hard, thin shell of tooth-colored material bonded to the front surface of a tooth to change its color, shape, size and/or length; mask dental imperfections like stains, cracks, or chips, and compensating for excessive gum tissue.
Crowns. Sometimes too much of a tooth is lost due to decay or trauma to support a veneer. Instead, capping it with a natural-looking porcelain crown can achieve the same types of improvements. A crown covers the entire tooth replacing more of its natural structure than a veneer does.
If you would like more information about ways in which you can transform your smile, please contact us or schedule an appointment for a consultation. You can also learn more about the techniques mentioned above by reading the Dear Doctor magazine articles "Teeth Whitening," "Repairing Chipped Teeth," and "Porcelain Crowns & Veneers."