Posts for tag: missing teeth
By Jeffery M. Hurst, DDS
March 14, 2018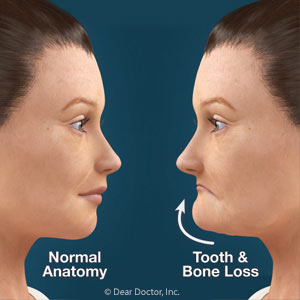 Losing teeth will certainly disrupt your otherwise beautiful smile. It could also potentially affect your food choices and whether or not you receive proper nutrition.
But something else just as consequential could be happening beneath the surface of your gums—you could be losing bone. Significant bone loss in the jaw could adversely affect remaining teeth and facial structure, as well as limit your future restoration choices.
To understand why this occurs we must first consider what bone is: living, cellular tissue. Like the body's other cells, bone has a life cycle: cells form, live and eventually dissolve (or resorb), and are then replaced by new cells. Stimulation from forces generated during chewing traveling up through the tooth roots to the jawbone keep this cycle going at a healthy pace.
But when a tooth is missing, so is this stimulation. This could slow the replacement rate and cause bone volume to gradually decrease. The jawbone width could decrease by as much as 25% the first year alone and several millimeters in height after just a few years.
Although dentures (a popular and affordable choice) can restore lost function and appearance, they can't duplicate this needed stimulation. They even accelerate bone loss by irritating and creating compressive forces on the bony ridges and the gums they rest upon.
One restoration, however, can actually help stop bone loss and may even reverse it: dental implants. This happens because an implant's metal titanium post imbedded in the jawbone attracts bone cells to grow and adhere to its surface. This could actually increase bone density at the site.
To gain this advantage, it's best to obtain implants as soon as possible after tooth loss. If you allow bone loss to occur by waiting too long, there may not be enough to properly support an implant. Even then it might be possible to build up the diminished bone through grafting. But if that's not possible, we'll have to consider a different restoration.
To determine the condition of your bone after losing teeth, visit us for a complete examination. Afterward, we'll be able to discuss with you the best way to address both your overall dental health and your smile.
If you would like more information on treating missing teeth, please contact us or schedule an appointment for a consultation. You can also learn more about this topic by reading the Dear Doctor magazine article "The Hidden Consequences of Losing Teeth."
By Jeffery M. Hurst, DDS
September 09, 2016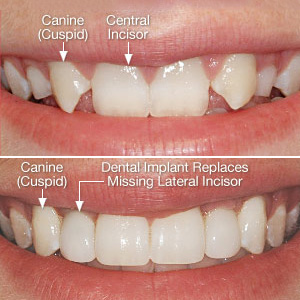 When you look at the top row of a normal smile, you'll see symmetrical pairs: the central incisors in the middle, flanked by the lateral incisors and the canine (or eye) teeth on the outside of them.
Sometimes, though, teeth may not form as they should: in fact, it's one of the more common congenital defects with one in five people having missing or deformed teeth, often the upper lateral incisors. In the latter case, it's not uncommon for the eye teeth to drift into the missing lateral incisors' spaces next to the central incisors. This creates a smile even a layperson can tell is off.
There is a way to treat this with orthodontics and cosmetic dentistry that will transform that person's smile while restoring better mouth function too. It's often a long process, however, that's best begun early and must be precisely timed with dental development.
Using braces, we move the drifted teeth back to their proper positions, which will make room for a future dental restoration. It's usually best to begin this treatment during late childhood or early adolescence. The next step is to fill the newly-created space with prosthetic (false) teeth.
Dental implants are an ideal choice since they're durable and life-like, and won't require permanent alteration of adjacent teeth. They do, however, require a certain amount of bone volume at the site to support them; if the volume is insufficient we may have to place a bone graft to stimulate new growth.
It's also best not to install implants until the jaw has finished development, usually in the late teens or early adulthood. In the interim between tooth repositioning and implants we can customize a retainer or other removable appliance with a false tooth to occupy the space. This not only enhances the smile, it also prevents the repositioned teeth from drifting back.
These steps toward achieving a new smile take time and sometimes a team of specialists. But all the effort will be rewarded, as a person born without teeth can have a new smile and improved oral health.
If you would like more information on treating dental development deficiencies, please contact us or schedule an appointment for a consultation. You can also learn more about this topic by reading the Dear Doctor magazine article "When Permanent Teeth Don't Grow."